Sick Boys was designed by illustrator Dave Savage and is available in 8, 10, 12, 14, 15 and 16 lbs.
Standard Drilling Service
We offer our standard drilling service for recreational/ beginner-level bowlers. This includes anyone who is ordering their first bowling ball, a bowling ball for a child, or a bowling ball for someone who bowls with friends or family. This is a standard conventional layout using an average for the span and hole sizes. Our standard drilling service costs $30.00. With Standard drilling, all three holes (both fingers and thumb) must be drilled. Finger inserts cannot be installed in Standard drillings.
To determine your span:
1. MEASURE (shown by the red arrow below) THE DISTANCE FROM THE BASE (crease) OF YOUR WRIST (blue line on wrist below) TO THE TIP OF YOUR MIDDLE FINGER (red arrow below).
2. CHOOSE THE CLOSEST DISTANCE FROM THE CHART BELOW (X-SMALL, SMALL, MEDIUM, LARGE or X-LARGE ).
3. IF YOUR MEASUREMENT FALLS IN BETWEEN TWO SPANS, GO WITH THE SMALLER SIZE OF THE TWO SPANS OFFERED.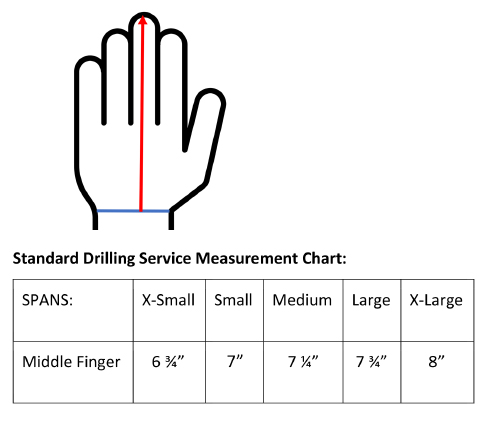 The fit of this service is not guaranteed, and minor adjustments may have to be made to the hole sizes once the ball has been received. Holes will be beveled and smoothed out so it is ready to be used once received by the customer. Drilled bowling balls may not be returned for any reason other than a manufacturer defect. Ball fit is not guaranteed by ontheballbowling.com. Drilling charges cannot be reimbursed. Please allow additonal shipping time of up to 7-14 days for the drilling service.
For more information, contact Customer Service.